Dr. Karen Bradley is the owner of Onion River Animal Hospital. Her veterinary interests include medicine and surgery and she is our go-to veterinarian for many of our bird (including chicken and duck) patients.
Originally from Georgia, Dr. Karen Bradley graduated from the University of Georgia College of Veterinary Medicine in 1996. Dr. Bradley, along with her husband, adopted Vermont as their home state in 2000.
Joining Onion River Animal Hospital (ORAH) 20 years ago, it was immediately apparent that this was a special place. Working with a veterinary team of compassionate, skilled people who truly care about the central Vermont community and their pets made ORAH her forever work home. She has been an owner since 2003 and is very proud of the clinic's current full-service, state-of-the-art facility providing Fear-Free Certified care.
Dr. Bradley lives with her husband, 2 children, and menagerie of animals including 2 English Mastiffs, 4 cats, 2 rabbits, 2 ducks, 20 chickens, 2 miniature horses, 1 pony, and 1 horse.
Dr. Anne Culp grew up outside of Philadelphia and attended the University of Pennsylvania for veterinary school. After graduation she completed a rotating internship at BEVS in Williston. During that time she fell in love with Vermont, joined the ORAH team, and has made this her home. Her special interests include ultrasound, surgery, and emergency medicine. In the summer of 2022, Dr. Culp was welcomed as a co-owner of ORAH. In her spare time she loves hiking or paddleboarding with her 2 dogs, O.G. and Citra, or snuggling by the fire with her three-legged cat, Brie. You may also see her snowboarding on the slopes or enjoying a post ski day Vermont craft beer.
Dr Hannah Flynn moved to Vermont to attend Middlebury College. After a few years as a ski bum in Colorado, she attended veterinary school at the University of Pennsylvania and graduated Summa Cum Laude in 2005. After working as an emergency vet in Colorado, then Burlington, VT, she joined Onion River Animal Hospital full time in 2013. Her veterinary interests include emergency medicine, surgery and ultrasound. She loves working at ORAH and having the shared knowledge base of many doctors and experienced technicians. She really enjoys collaborating with families to find the path of care for their pet that best fits with their philosophies and unique circumstances.
She lives in Moretown with her husband and daughters and three herding dog mutts- Bird and Pixie (aka Errol and Hedwig). When not at work, she usually can be found walking, biking or skiing in the woods with her family.
Dr. Lauren Quinn grew up in Massachusetts. After getting her degree in biology from Harvard College, she obtained her veterinary degree at Tufts University (now known as the Cummings School of Veterinary Medicine). She moved to Seattle following graduation and began her career as a small animal veterinarian. For a few years she worked for the Pet's Choice team of veterinary hospitals, acting as Medical Director and hosting a call-in radio show for the region. She moved to Vermont with her husband Rob in 2000, following the birth of their first child, and began working at ORAH that summer. Since 2004 she has lived in East Montpelier with Rob and their two children. Her household also includes a beloved English Setter, three mostly-compatible cats, and her daughter's two goats. Her medical interests include general internal medicine, senior pets, and end-of-life care, but her favorite part of being a veterinarian is the relationships she develops with pets and their families.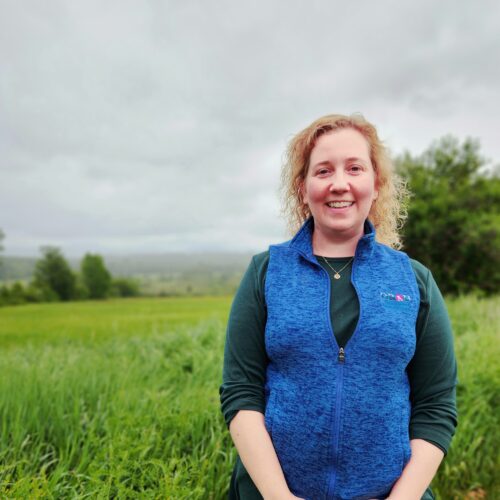 Dr. Kristi Magida is a 2016 graduate of Ross University College of Veterinary Medicine. She grew up in central Vermont and followed her love of the sea to study Marine Biology in Maine as an undergraduate. It was while volunteering with a marine mammal rehabilitation group that she found her love of veterinary medicine and decided there was no better ways to combine her two interests than going to Veterinary school in the Caribbean. Dr. Magida's professional interests include pain management, geriatric care, behavioral medicine, and preventative medicine. She loves getting to know her patients and their families and helping them through all the stages of their life.
Dr. Magida has spent the last six years practicing in Chicago and on the North Shore of Boston. She and her husband now live in Jericho with their two children and "coconut retriever" Lia. They are incredibly excited to be home in Vermont. When she isn't at work Dr. Magida enjoys her days trying to keep up with her kids, baking, exploring the outdoors with her family, traveling, and reading.
Dr. Carl Harris grew up on a Red Angus farm in Maryland. He attended Ross University of Veterinary medicine, which is located on the island of St. Kitts in the Caribbean. For his clinical year he attended the University of Missouri College of Veterinary Medicine. Dr. Harris grew up skiing in Vermont and has always been excited at the idea of living near the Green Mountains. His veterinary interests include medicine, surgery, and ultrasound and is very much looking forward to joining the ORAH team. In his spare time he enjoys skiing, mountain biking, and kayaking.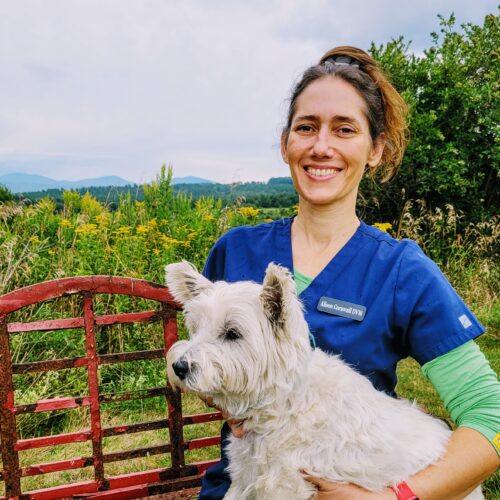 Dr. Cornwall has worked with and respected the ORAH team for many years and is excited to become a part of it. After getting both her Masters veterinary degrees from the University of California at Davis, she moved with her husband to Vermont to work with horses and farm animals. Three kids and many adventures later, Vermont is Dr. Cornwall's community and home. In recent years, Dr. Cornwall has taught math, anatomy, and physiology at Vermont Tech and continued her veterinary career with small animals. When she is not helping pets, Dr. Cornwall likes cycling, hiking, kayaking, and skiing in the lovely Green Mountains.
Dr. Bri Wilkinson grew up in Vermont and went to the University of Vermont for her undergraduate studies in Animal Science and Wildlife Biology. She travelled overseas to attend the University of Edinburgh in Scotland for her veterinary degree. After graduation, Dr. Bri returned to Vermont as a rotating veterinary intern at BEVS. In 2022, she has joined our team as one of our veterinarians. In her spare time, you can find her working on illustrations and hiking our local trails.
Erin Preston, CVPM, has had an active presence in the veterinary community for twenty-three years. Her passion for helping clients and their pets led to her becoming a veterinary technician in 1998 at Onion River Animal Hospital (ORAH). When an opportunity arose in 2007 to become the Practice Manager, she stepped into both a challenging and exhilarating role. In 2011 she graduated from the Purdue University Veterinary Management Institute and in 2014 earned her designation as a Certified Veterinary Practice Manager. Continuing her education, she obtained a Professional Studies Degree from the Community College of Vermont.
Currently, she is the Practice Manager and co-owner of ORAH. She oversees hospital administration, strategic operational planning, professional development for staff, quality and safety standards, and customer service excellence. A native Vermonter, she loves spending time with her family and two golden retrievers, and one golden feline and she can often be found swimming, sailing, biking, or skiing in the great outdoors of Vermont.
Technical Supervisor
Leader Surgical Supervisor
Certified Veterinary Technician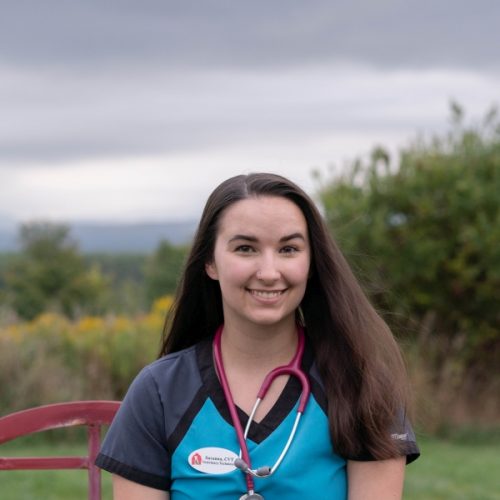 Certified Veterinary Technician
Certified Veterinary Technician